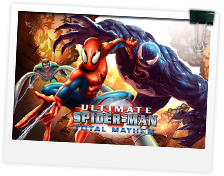 THE ONLY SPIDER-MAN GAME ON iPHONE!
Your friendly neighborhood Spider-Man battles to save his beloved city! Spider-Man will need to use all of his great powers to save New York from the worst breakout of Super Villains the city has ever seen. Fight against time to stop the madness and mayhem created by the Super Villains who want to take over the city and disperse a poisonous virus! Spider-Man: Total Mayhem captures all the action, humor and fun of the Ultimate series in state-of-the-art gameplay and animations. Are you up for the challenge?
WITH GREAT POWER COMES GREAT RESPONSIBILITY
Enjoy ultra dynamic gameplay with more than 20 fighting combos that take advantage of Spider-Man's extraordinary agility and super powers.
Master the mayhem by using Spidey's agility to master tricky platforming and quick time events. - Find yourself in a pinch? Activate Spidey's special attack, the Ultimate Web Combo to blast danger away!
Use your Spider-Sense to avoid danger and get in the best position to counter-attack!
THE COMIC UNIVERSE OF ULTIMATE SPIDER-MAN
Play in a storyline inspired by the Ultimate Spider-Man comics: Roxxon scientists planted inside the Triskelion facility covertly attempt to combine Venom with OZ Serum to improve it. The resultant blast destroys a portion of the Triskelion, allowing some of Spider-Man's greatest foes to escape. Released in the explosion, the Oz-Venom synthesis has also begun to infect citizens throughout the city!
Face off against six of Spider-Man's toughest enemies gathered in one game for unprecedented mayhem: Sandman, Rhino, Electro, Venom, Dr Octopus, and Green Goblin!
A sleek graphic style with bold colors and impressive animations – including slow motion – brings the Ultimate Spider-Man universe alive in right your hands!
In the heat of all the action capture your greatest combat moves for your friends with our Photography mini-game. And Search for collectibles to unlock comic art from the Ultimate Universe.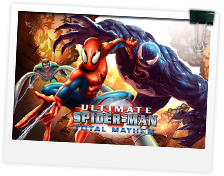 THE ONLY SPIDER-MAN GAME ON iPHONE!
NEW YORK IS ALL YOURS
Visit 12 levels in unique New York City locations as depicted in the comic book series. Battle from the rooftops to the subway and back again!
Explore the city like Spider-Man! Cling to the walls and climb them and then jump, web sling or slide from rooftop to rooftop in memorable aerial sequences.
Unlock the Black Suit, and revisit all levels using your new capacities powered by the mysterious Symbiote substance.
Mystery Infection Strikes City!
Spider-Man is busy swinging toward the bridge back to Queens when he sees what appears at first glance to be a regular, NYC traffic jam... except this one happens to be caused by people abandoning their cars in the middle of the street and fleeing.
It might be the symbiote possessed horde advancing on them. Spidey dispatches the symbiotes and traces their source to City Hall, where he meets S.H.I.E.L.D. field researchers. The S.H.I.E.L.D (Supreme Headquarters International Espionage Law-enforcement Division) is an extra-government intelligence and security organization dedicated to protecting the nations and peoples of Earth from all threats. The lead researcher tells Spider-Man that scientists planted inside the Triskelion by the Roxxon Corporation attempted to combine Venom with OZ Serum, hoping to improve it. The resultant blast destroyed a portion of the Triskelion, allowing a number of super-villains to escape this morning... and also dispersed some of the Oz-Venom synthesis, which began possessing/infecting people throughout the city.
The researchers have been collecting samples all morning in hopes of generating a rapid-acting antidote, but S.H.I.E.L.D. is overwhelmed with another crisis elsewhere and stretched thin. They've detected a major infestation inside City Hall... but aren't equipped to defend themselves from a group that size. Can Spidey get inside and procure a sample?
0

This suit, this bio-suit, is amazing!
This black variation of his regular suit gives Spider-Man strengthened abilities, but also possesses its very own powers. In particular, it allows Spidey to change appearance through simple thought control.
However the Symbiote suit also possesses powers that can overtake the person who wears it... sometimes for the worse.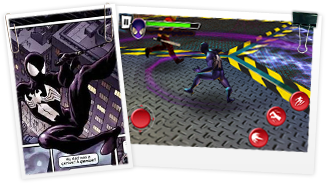 The Black Suit allows Spider-Man to launch Symbiote attacks.
He can launch Symbiote blasts and create Symbiote shock waves by striking the ground.
As Spider-Man masters the suit he can even change his appearance to increase his combat ability.
Symbiote power makes this shape shifting Spidey a fearsome opponent.

With great power comes great responsibility!
In the world of Ultimate Spider-Man, teenager Peter Parker gained his powers after being bitten by a genetically modified spider during a class visit to Osborn Industries.
His strength, agility and reflexes were incredibly heightened, and he became a Super Hero dedicated to helping those in need.
With the help of S.H.I.E.L.D., he now takes out Super Villains bent on wreaking havoc upon New York City and imprisons them in the secret offshore S.H.I.E.L.D. base, the Triskelion.
In Spider-Man: Total Mayhem, Spidey confronts unprecedented chaos when faced against six of his greatest adversaries, who have escaped from Triskelion after a major explosion.
Though quick to respond, the police and S.H.I.E.L.D. agents are overwhelmed.
Spider-Man must use all his super-powered abilities to clean up the city and put his foes back behind bars.
Rhino
I'm gonna rip you to pieces, little man!
Aleksei Sytsevich was subjected to intensive chemical and radioactive experiments which bonded a super-strong polymer to his skin and greatly augmented his strength and speed.
He became the feared 'Rhino' - perhaps Spider-Man strongest nemesis.
Ultimate Rhino is even more powerful.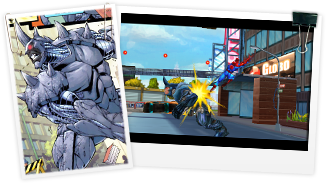 He gets this strength from an armor suit stolen from the American army.
His favorite pastime? Using his Rhino charge to bash in bank vaults.
In the game, Rhino takes advantage of the chaos to go after the city's banks, thereby placing the police on alert.
During the latest theft, Spider-Man arrives just in time to save two police officers that Rhino is charging toward.
An epic battle ensues in which our web-slinging hero must use his spider-sense to evade the devastating blows that Rhino tries to deliver.
Can Spidey stop this raging Rhino?

Venom
Do you have any idea the pain?
No of course you don't! You DID this to me!
In the Ultimate Spider-Man universe, the Symbiote was created by Eddie Brock as a remedy for cancer.
It is supposed to protect its user from both external and internal harm, but it also exerts extreme pressure.
If the substance is applied to an incompatible human, the Symbiote takes control of the host's conscience.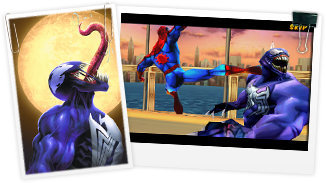 The Symbiote organism enslaves the host and forces it to devour new victims to survive.
In Spider-Man: Total Mayhem, Venom is in the middle of the intrigue.
Roxxon agents infiltrated Triskelion in order to fuse the Oz serum with Venom.
Their experiment failed miserably and caused a massive explosion.
This allowed Venom to escape and he is now out of control looking to grow and lead a Symbiote army.
Spider-Man tries again to reason with Eddie but he flees in rage.
Spidey must now chase down and confront his most fearsome enemy.

GREEN GOBLIN
I and my army are one!
The city is ours!
In the Ultimate Spider-Man universe, the Green Goblin is a raging monster.
A serum meant to increase the physical and intellectual capacities of famed industrialist Norman Osborn turns him mad and monstrous.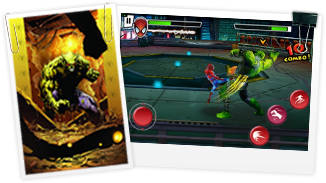 In the game, the dangerous menace that is the Green Goblin was kept captive by S.H.I.E.L.D.
After the prison explosion he manages to escape and seeks to retrieve the antidote before Spider-Man.
The antidote would allow for the healing of the poisoned inhabitants of the city, but the Green Goblin dreams of a world where he isn't the only one infected...

Electro
I'm all juiced up!
I've become PURE POWER!
Maxwell Dillon was a victim of a freak lighting strike while working on a power line.
This accident altered his body so it can absorb and generate electricity.
He can recharge his powers through contact with electricity, which poses quite the risk to public safety.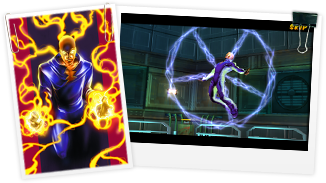 The Ultimate Electro is the product of additional biological engineering experiments.
He was stopped numerous times by S.H.I.E.L.D. and Spider-Man, but managed to escape each time.
After the explosion, Electro has teamed up with Norman Osborn to terrorize the city.
In Spider-Man: Total Mayhem, Spider-Man is alerted by an enormous explosion at the city's electric power station.
The result is a general power outage that plunges the city in darkness.
It's not difficult to determine the origin.
Electro is back! Spider-Man has to act quickly as Electro is using the station as a source of energy and is becoming more and more powerful...

Dr Octopus
Fascinating, isn't it, boy?
Respected scientist Doctor Otto Octavius was working for Osborn Industries on a S.H.I.E.L.D. funded U.S. government project to create a super-soldier serum, the Oz Compound.
After the Compound accidentally mutated teenager Peter Parker, Otto's employer Norman Osborn decided to test a sample on himself.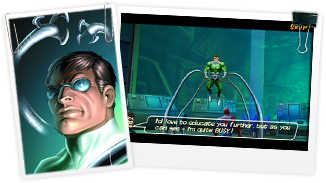 He had Otto supervise the procedure, but an explosion destroyed the lab, and the mechanical arms Otto wore for delicate experiments were fused to his skin.
In Spider-Man: Total Mayhem, Dr Octopus is one of the super-villains who is freed during the explosion at Triskelion's prison off the coast of New York.
It is the perfect moment for him to take advantage and get revenge on his sworn enemy.
An awesome weapon is attached to his menacing
arms: a razor-sharp laser.

Sandman
By altering his genetic code, Flint Marko acquired the power to transform his body into moldable sand, becoming Spidey's feared foe - the Sandman.
In the world of Ultimate Spider-Man, Sandman is one of the failed experiments of industrialist Justin Hammer to recreate the Super Soldier Serum.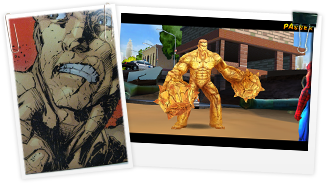 With the help of Spider-Man, S.H.I.E.L.D. has imprisoned Sandman by placing the sand of his body into separate containers, and freezing them.
In the game, the explosion has allowed Sandman to reconstitute himself.
He is the first escaped super villain from the Triskelion prison to spread panic in the streets.
But Spider-Man arrives to the scene very quickly to reprimand
the one he likes to call "Sandy".
Spidey now must recapture the slippery Sandman.
ATTACKS
Combo
Any chance you can take a break to play with me?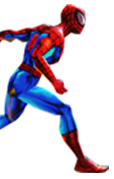 By combining his agility, his force, and his web, Spider-Man can perform more than twenty combos.
For example, he can grab an enemy with his web and spin him around, and finally send him crashing into other surrounding enemies.
Also, while in the air, he can cover an enemy in webbing and assault him with strikes.
The possibilities are numerous, and it's up to you to test the combinations with the help of action icons in the lower-right corner of the screen.
You'll discover some impressive new attacks.
ATTACKS
Ultimate Combo
Heads will roll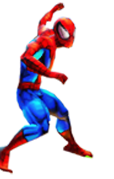 By multiplying combos, Spider-Man fills his web gauge.
When it's full, he can release his special attack, the "Ultimate Web Combo".
This takes the form of a whirlwind attack that causes great harm to all surrounding enemies.
ATTACKS
Spider Sense
My spider-sense has been going wild all morning! What the heck's wrong?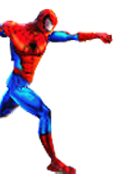 After being bitten, Peter Parker acquired a sixth sense, his spider-sense.
It allows him to sense the arrival of danger, and to evade it.
In the game, it appears as a lightning bolt at the bottom of the screen.
By touching the lightning bolt, Spider-Man will evade the imminent danger and counter immediately.
Spider-sense is essential during combat against super-villains, for example in order to evade Venom's Symbiote blasts...